Product introduction
The mine agitation tank is an indispensable equipment in the flotation process. It is mainly used for the agitation of the pulp before flotation, so that the ore particles are suspended and fully contacted and mixed with the chemicals to create conditions for the sorting operation. The machine is widely used in black and non-ferrous metal concentrators, chemical, slurry mixing, cyanide plants and sewage treatment plants.
Mining tank equipment is used for slurry mixing and storage, not only for concentrators, but also for other industrial production sectors. When the black, non-ferrous metal concentrate slurry and coal slurry are piped, a large agitated storage tank is also required.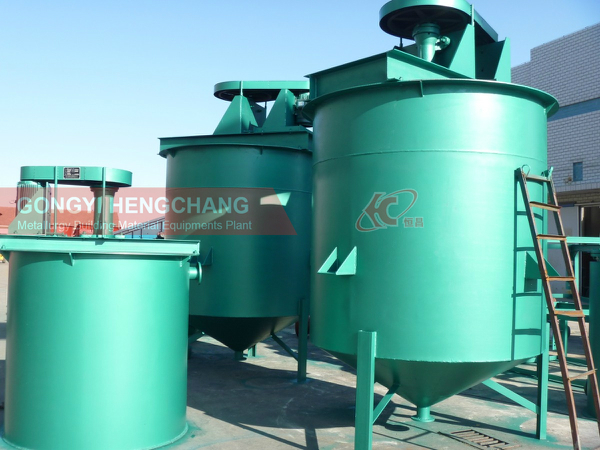 Product Advantages
1. Compact structure, good sealing performance, and set gray ash plate at the feeding port to prevent water mist from collapsing;
2. Stirring evenly, the stirring blade is fan-shaped, and the contact area with the medium is large when stirring;
3. The nozzles are arranged in multiple rows, the water volume is uniform and adjustable;
4. The residual ash rate is low, and the watershed setting at the bottom of the box ensures that there is no dead space in the equipment.
5. Mine mixing drum equipment has advanced performance, stable finished product quality, uniform mixing and rapid discharge.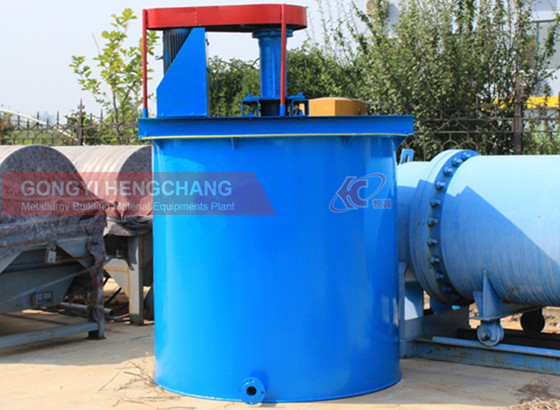 operating principle
The slurry is discharged from the lower end of the impeller in the axial direction under the rotation of the impeller of the axial flow propeller blade, and a negative pressure is formed in the impeller chamber, so that the slurry flows into the impeller chamber from the impeller to be replenished. At the same time, under the diversion of the steady flow plate, the slurry forms a vertical circulating flow in the groove downward and upward in the center. When the upflow velocity of the slurry is greater than the sedimentation velocity of the ore pellet, the ore particles in the slurry are in suspension and maintain a uniform concentration.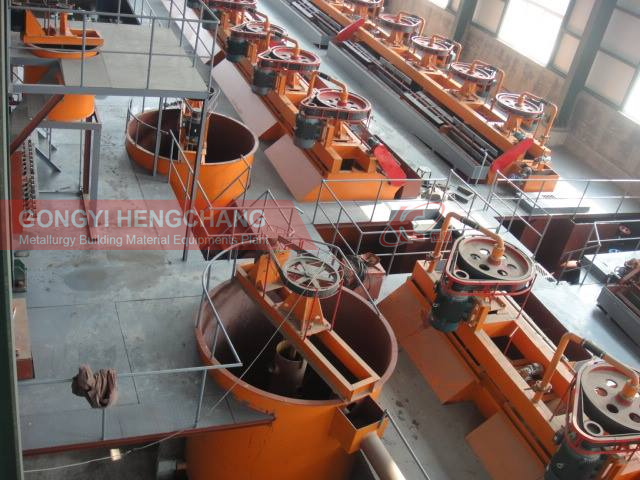 Technical parameters
model

Diameter(mm)

Height(mm)

volume(mm)

Impeller dia(mm)

speed(r/min)

motor

weight(kg)

model

power(kw)

(mm)

XB-750

750

750

0.26

240

530

Y90S-4

1.1

228

XB-1000

1000

1000

0.58

240

530

Y90L-4

1.5

436

XB-1200

1200

1200

1.14

400

320

Y100L2-4

3

765

XB-1500

1500

1500

2.2

400

320

Y100L2-4

3

1083

XB-2000

2000

2000

5.46

550

230

Y132M2-6

5.5

1671

XB-2500

2500

2500

11.2

650

200

Y160L-6

11

3438

XB-3000

3000

3000

19.1

700

210

Y225S-8

18.5

4613

XB-3500

3500

3500

30

850

230

Y225M-8

22

7110
PRODUCTS PRODUCTS
Stone crushing Item
Mineral processing Item
Washing & dewatering Item
Briquette making Item
Calcination & Drying Item