Product introduction
Shaking Table Separation is one of the important dressing equipment depending on the gravity. It is widely used in to classify the granularity 2-0.02 millimeters ore and ore slime of tungsen, tin, niobium, manganese, chromium, titanium, lead , zinc, gold, iron(rediron, brown iron) and so on metallic minerals.
It is easy to be operated and can prduce high grade concentrated ore, secondary concentrated ore, middlings and gangue, etc at the same time, it is widely used to separate tungsten, stanum, niobium,gold, other rare metal and nobel metal ores, it can also be used to separate iron, manganese minerals, coal and so on.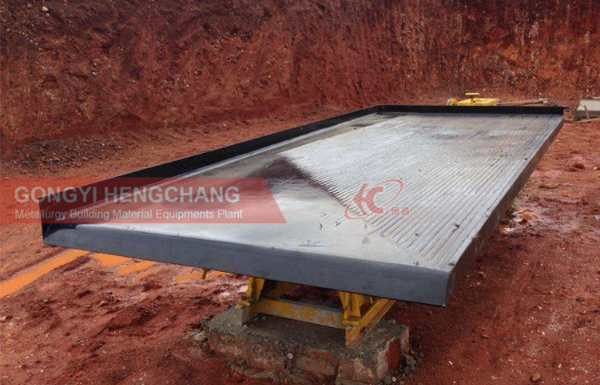 Product Advantages
1. Get concentrate and gangue at one time
2. Fine water-resistance, chemical resistance, corrosion resistance, abrasion resistance, etc;
3. We can simplify the repair and painting process, which directly reduces the maintenance cost, greatly increases recovery
rate, and prolongs the life of ore concentration tables.
4. High enrichment ratio, good selection effect, easy operation
5. Low energy consumption, competitive price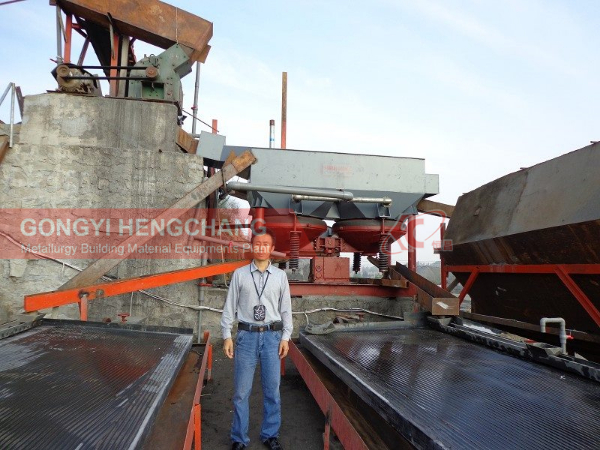 operating principle
Shake table is on the lean table board with raffles. The ore material is fed in by the feeding chute upper table board; meanwhile,the water
is fed by water feeder transversely. Under the impact of vibrating wave, the materials go on vertical and horizontal movement as per the
different proportion and granularity. The ore material with different proportion and granularity move down in laddershipped state along with
their own movement, then discharge from the fine concentrate end and tailings end, finally they are separated out to fine concentrate, middle
concentrate and tailings.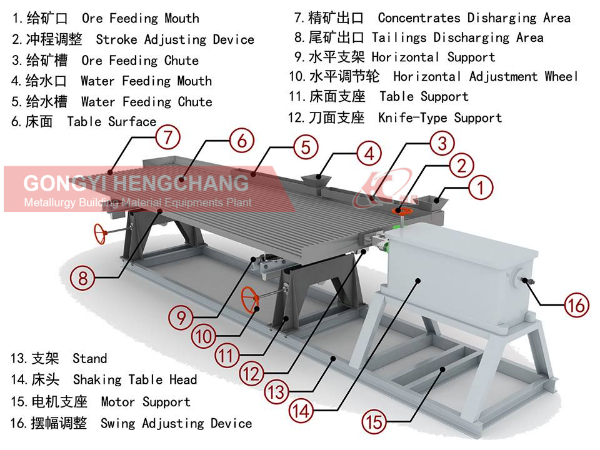 Technical parameters
Model

Bed Size

Max. Input Size

Stroke

(mm)

Water

Consumption

(t/d)

Area

(m 2)

Bed

Fracture

Shape

Power
kw

Weight
(kg)

Coarse Sand

4450*1855*1546

2

16-22

80-150

7.6

Rectangle

1.1

780

Fine

4450*1855*1546

0.5

11-16

30-60

7.6

Sawtooth

1.1

780

Sand

4450*1855*1546

0.15

8-16

10-17

7.6

Triangular

1.1

780
PRODUCTS PRODUCTS
Stone crushing Item
Mineral processing Item
Washing & dewatering Item
Briquette making Item
Calcination & Drying Item