Product introduction
Our company has developed this new advanced double-stages crusher, which is much suitable to be used in crushing the gangue, shale, coal cinder, etc. It is based on our long period of investigation, designing and trying. And the features as below:
Double rotors and double crushing,outlet grain size fine, no screen stencil, high wet materials no blockage, high alloy anti-wearing hammer, longer service life, hammer position shift technology triple the hammer service life. Hydraulic shell opening, easy operation and maintenance operation and maintenance.
Product Advantages
1, the hammer head uses the new technology of casting, with wear-resistant, resistant to impact;
2, according to the customers'requirements, adjust the required granularity;
3, hammer crusher body sealing structure solves the problem of leakage of ash and dust pollution in crushing workshop;
4, the overall design has the advantages of beautiful appearance, compact structure, less wearing parts, convenient repair and other advantages, it is the upgrading of products.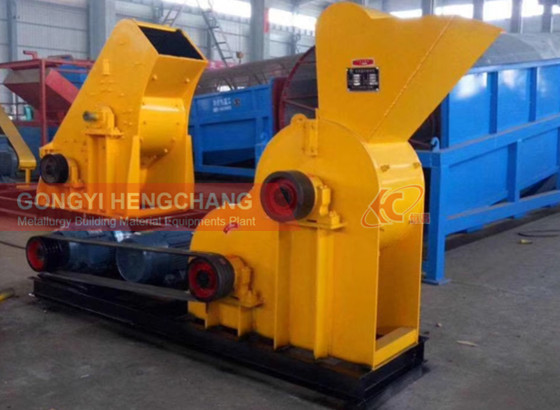 operating principle
The motor drives the rotor that fixed on the main bearing to run quickly toward certain direction when the machine works. The materials are fallen into the throw-up disc and impacted by the high speed strips of the throw-up disc, and then strikes with the impact board under the effect of Centrifugal Force.
Because the impact board is bevel and the gravitation, the materials are threw to the taper crushing room and impacted by the high-rotating up hammerhead. After gaining sufficient energy, the materials are thrown to the impact board again and action repeats. The materials strike with each other in the crushing room and then are down to the column-shape rotor room. Then crushed, pressed, and ground and action repeats. In this way, the materials go through up, middle, and down rotor crushing rooms and crushed, pressed, and ground by the hammers and the impact boards, and finally the materials are gradually crushed into needed sizes and come out.

Technical parameters

Model


SCP 600×400


SCP 600x600


SCP800×600


SCP 900×800


SCP 1000x800


Feeding Size ( mm )


≤100


≤150


≤200


≤260


≤400


Outlet Size
( mm )


≤3

(<2mm above 90%)


≤3

(<2mm above 80%)


≤3

(<2mm above 80%)


≤ 3

(<2mm above 80%)


≤3

(<2mm above 80%)


Capacity
( t/h )


15-25


15-30


50-70


50-90


60-120


Motor Power ( kw )


18.5+22


22+22


37+45


55+75


75+55


Dimensions

( L× W ×H )
( mm )


2560×1020×1650


2760×1280×1750


3760×1314×2140


3870×1700×3150


4500×1700×3150

PRODUCTS PRODUCTS
Stone crushing Item
Mineral processing Item
Washing & dewatering Item
Briquette making Item
Calcination & Drying Item