Product introduction
The spiral sand washing machine is a kind of sand washing machine. The sand material is mainly stirred by the screw device in the equipment, so that the soil in the sand stone material is mixed with water, and is discharged from the flow port on the equipment, and the sand stone material is in the Under the action of the screw device, it is gradually screened and discharged from the discharge port at the top, thereby achieving the cleaning and screening effect of the sand and gravel material.
Spiral sand washing machine is especially suitable for making abrasive, refractory materials, cement, quartz sand, steel sand, slag powder, copper ore, iron ore, gold ore, concrete aggregate, asphalt aggregate and other hard and brittle materials. Fine and medium crushed, it is an efficient and energy-saving gravel sand making equipment, which is 50% more energy efficient than traditional sand making machines.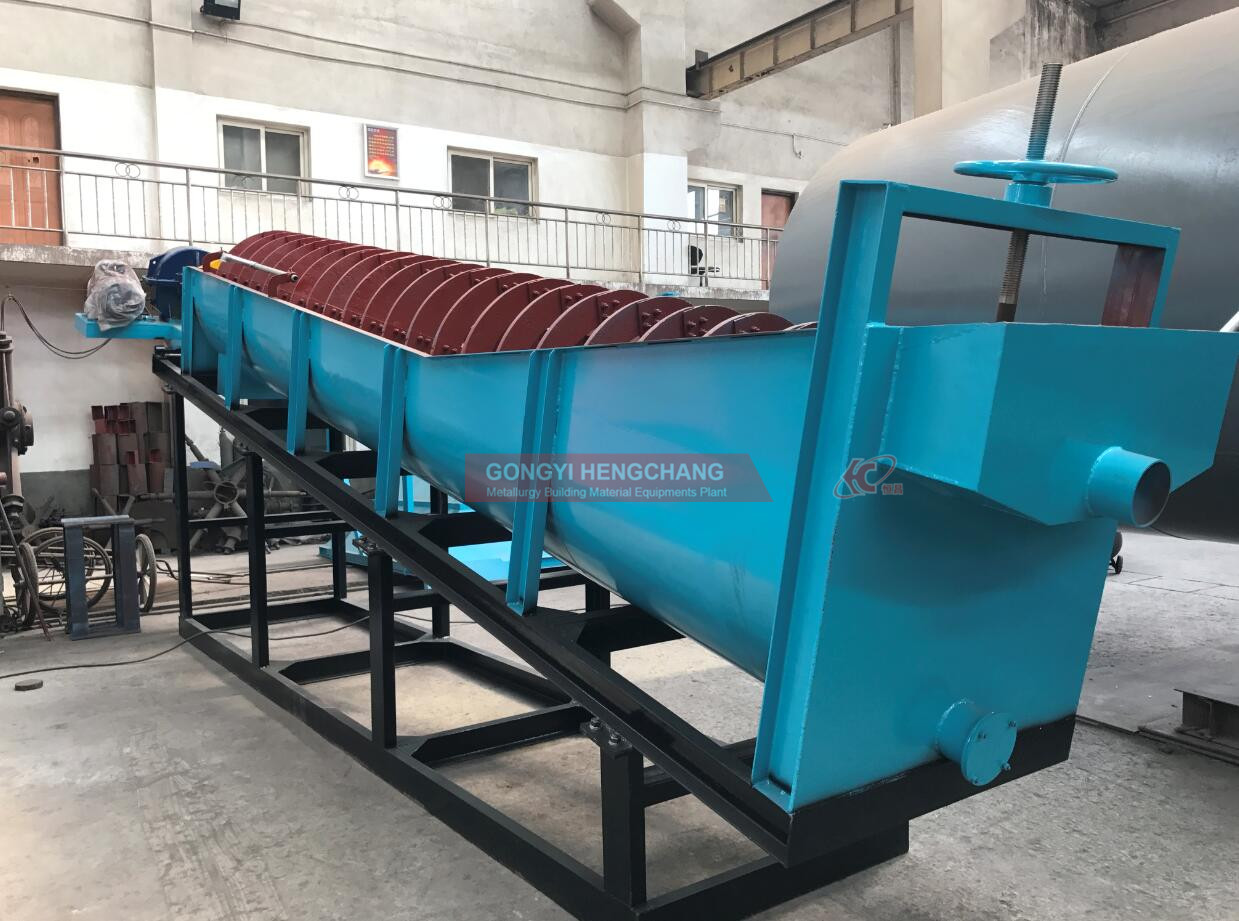 Product Advantages
1. Simple structure and stable operation.
2. The bearings are separated from the water and materials to avoid premature damage caused by pollution and rust.
3, suitable for a variety of work environments.
4. The material to be washed has less loss and the cleaning efficiency is high, which can fully meet the requirements of high-grade materials.
5, the service life is relatively long, almost no wearing parts.
6, in rare cases need to be repaired, so it can greatly reduce costs.
operating principle
When the spiral sand washing machine works, the motor rotates slowly through the V-belt, reducer and gear, and the impeller rotates slowly. The gravel has a feed trough into the washing tank, which is tumbling under the impeller and rubbed against each other to remove the surface of the gravel. Impurities, at the same time destroying the water vapor layer of the coated sand to facilitate dehydration; at the same time, adding water in the opposite direction of the sand, forming a strong water flow, taking away foreign matter with small impurities and small specific gravity in time, and discharging it from the overflow port to complete the cleaning. effect. The clean sand is taken away by the blades, and finally the sand is poured from the rotating impeller into the discharge chute to complete the cleaning of the sand.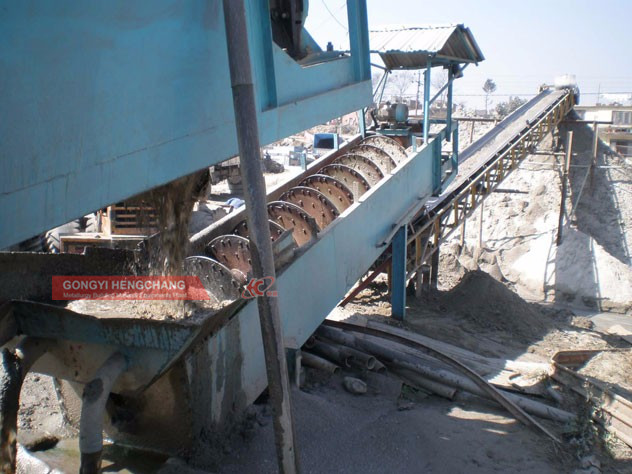 Technical parameters
Model

Spiral Dia.(mm)

Rotate Speed

(r/min)

input Size

(mm)

Water Consumption

(T/h)

Capacity

(T/h)

Power (Kw)

Weight (Kg)

LXS -508

Φ508

38

≤10

6-40

20-30

5.5

2670

LXS -610

Φ610

32

≤10

6-50

30-40

7.5

3800

LXS -762

Φ762

26

≤10

9-63

75

11

4020

LXS -914

Φ914

20

≤10

10-80

100

11

6500

LXS-1118

Φ1118

18

≤10

27-168

175

15

8690

LXS -1500

Φ1500

13

≤10

27-180

220

18.5

16580

2LXS -762

Φ762

26

≤10

136-182

145

11×2

8140

2LXS -914

Φ914

21

≤10

120-150

200

11×2

13500

2LXS-1118

Φ1118

17

≤10

200-250

300

15×2

19800
PRODUCTS PRODUCTS
Stone crushing Item
Mineral processing Item
Washing & dewatering Item
Briquette making Item
Calcination & Drying Item