Product introduction
The spiral chute is a combination of the features of a spiral concentrator, a spiral chute, a shaker and a centrifugal concentrator. It is the best equipment for mining and beneficiation, especially for sand mining on the seashore, riverside, sand beach and stream ideal.
This equipment is suitable for the separation of iron ore, ilmenite, chromite, pyrite, zircon, rutile, monazite, phosphonite, tungsten ore, tin ore, strontium with a particle size of 0.3--0.02 mm. Mines, antimony ore and other non-ferrous metals, rare metals and non-metallic mineral bodies with different specific gravity.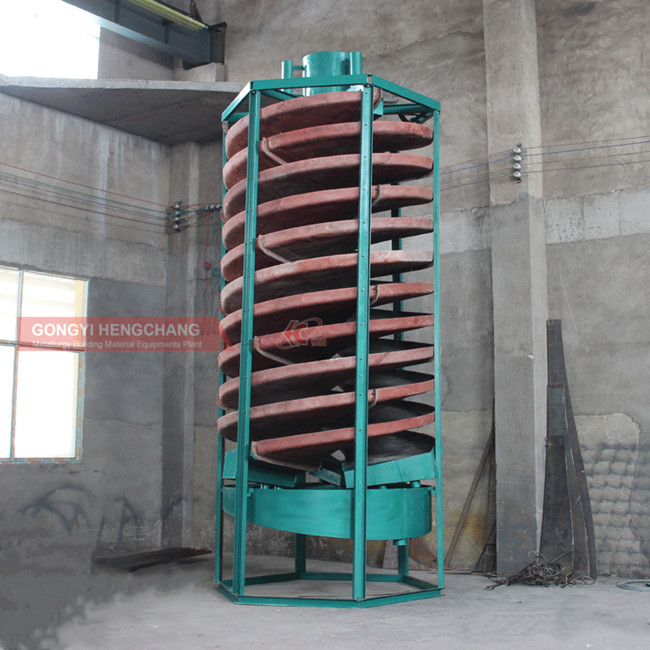 Product Advantages
1: The structure of the spiral chute is reasonable, the installation is simple, and the floor space is small.
2: The spiral chute is easy to operate, the ore dressing is stable, the mine is clear, the treatment volume is large, the efficiency is high, the enrichment ratio is high, the recovery rate is high, and the operation is reliable.
3: The spiral chute has the advantages of light weight, moisture resistance, rust prevention, corrosion resistance, strong adaptability to the ore content, concentration, grain size and grade fluctuation, no noise, etc.
4: The spiral chute has small footprint, low water consumption, simple structure, no power, large processing capacity, easy installation, convenient operation, small investment and quick effect.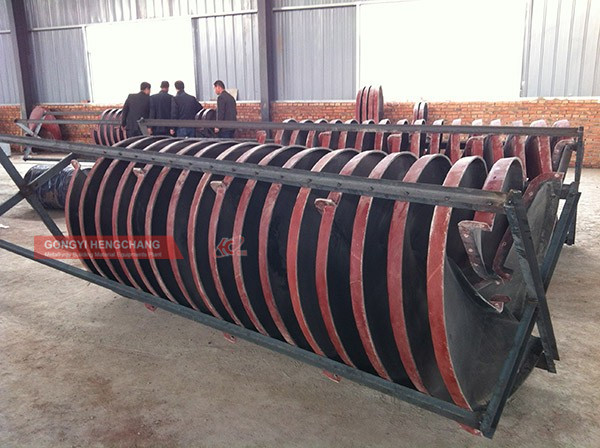 operating principle
The structure of spiral chute :
The spiral chute separator has a feeding uniformizer, a cross (tripod), a feeding trough, a spiral trough, a troughing trough, a collecting bucket, and a trough strut.
The working principle of mining spiral chute:
Raise the spiral chute, calibrate the vertical line, fix it in the appropriate position with iron frame or wood, send the ore to the top of the spiral feed by the sand pump, add the supplementary water, adjust the concentration of the ore paddle, the natural paddle Swirl from high to low, generating an inertial centrifugal force in the rotating bevel flow rate. Separating the ore from the sand by the gravity and centrifugal force of the swirling flow, the difference in the specific gravity, grain size and shape of the ore. The inflow of the concentrate bucket is taken out by the pipeline, and the tailings flow into the tailing sand bucket to connect to the sand pool, and then drained by the sand pump to complete the whole process of the beneficiation.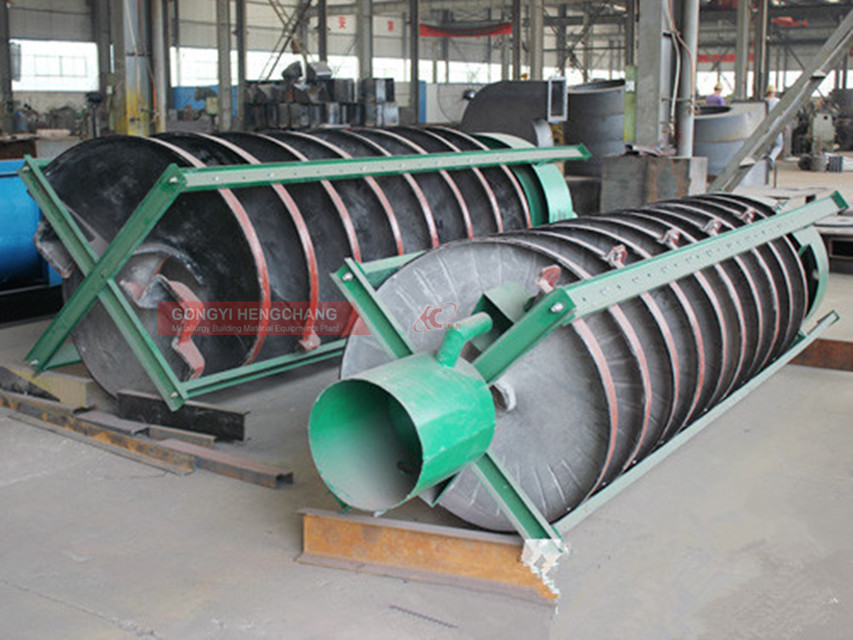 Technical parameters
Model

LL-1200

LL-900

LL-600

Diameter(mm)

1200

900

600

Pitch(mm)

540/720/900

405/540/675

270/360450

Pitch Ratio

0.45/0.6

/0.75

0.45/0.6

/0.75

0.45/0.6

/0.75

Slope(°)

9

9

9

Head

4

4

3

Input Size(mm)

0.03-0.3

0.03-0.3

0.02-0.2

Input Thickness(%)

25-55

25-55

25-55

Capacity(t/h)

4-6

2-3

0.8-12

Dimension

(mm)

1360×1360

×5230

1100×1100

×4000

700×700

×2600

Weight(kg)

600

400

150
PRODUCTS PRODUCTS
Stone crushing Item
Mineral processing Item
Washing & dewatering Item
Briquette making Item
Calcination & Drying Item