Product introduction
The vertical combination crusher is fine crushing equipment that crushes materials in middle hardness, such as rocks and mines with pressure strength less than 210MPa and humidity less than 5%. Limestone, dolomite, cement clinker, iron ore, molybdenum ore, aluminum, cobble, rock phosphorite, copper ore, burned magnesite, serpentine, calces, gypsum, lump coal, zeolite, sandstone and so on. It is widely used in the industry of mining, metallurgy, building materials, fireproof materials, cement, coal, glass, chemical industry, electricity power and so on.
Product Advantages
The crushing ratio of the machine is large, the maximum crushing ratio can be adjusted to the discharge grain size, and is not affected by the wear of the plate hammer and the lining plate; without the sieve bar setting, it is not easy to block when the material with high moisture content and large mud content is broken; The elastic adjustment mechanism is adopted, and the unbreakable material can be automatically discharged without causing damage to the equipment; the bearing is horizontally arranged, the service life is long, and the material with high temperature (such as cement clinker) can be broken; the rotor body structure of the machine is unique, when the material is broken, The rotor body is hardly worn; the rear chamber is provided with a screw or a hydraulic opening mechanism, and the wearing parts can be easily replaced without using the main equipment.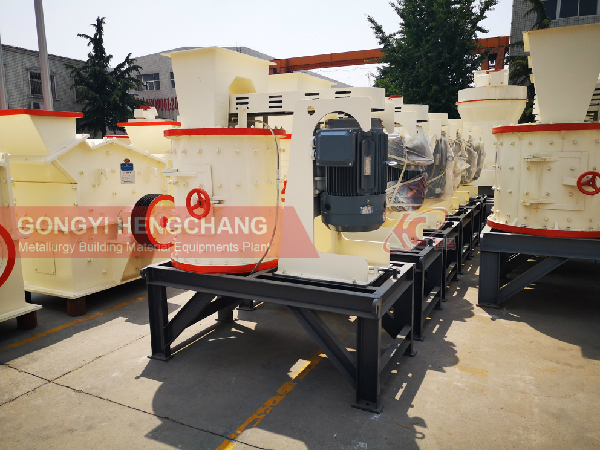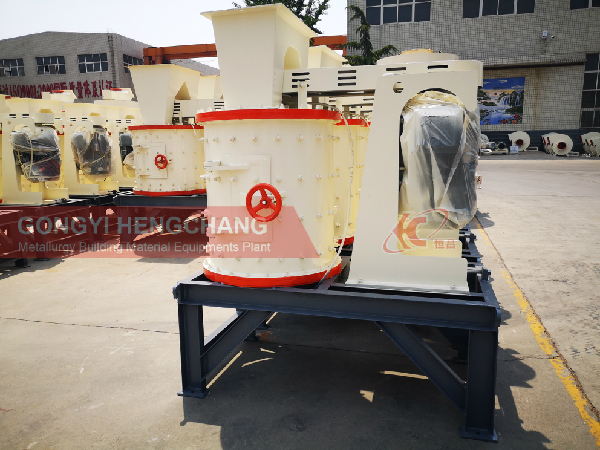 operating principle
The motor drives the rotor that fixed on the main bearing to run quickly toward certain direction when the machine works. The materials are fallen into the throw-up disc and impacted by the high speed strips of the throw-up disc, and then strikes with the impact board under the effect of Centrifugal Force.
Because the impact board is bevel and the gravitation, the materials are threw to the taper crushing room and impacted by the high-rotating up hammerhead. After gaining sufficient energy, the materials are thrown to the impact board again and action repeats. The materials strike with each other in the crushing room and then are down to the column-shape rotor room. Then crushed, pressed, and ground and action repeats. In this way, the materials go through up, middle, and down rotor crushing rooms and crushed, pressed, and ground by the hammers and the impact boards, and finally the materials are gradually crushed into needed sizes and come out.

Technical parameters
Type

Main shaft rotating
(r/min)

Feeding size
(mm)

Output size
(mm)

Motor power
(kw)

Capacity
(t/h)

PFL-800

1000

< 50

< 3-5 60-90%

15-22

10-20

PFL-1000

750

< 120

< 3-5 60-90%

37-55

20-45

PFL-1250

530

< 150

< 3-5 60-90%

55-75

40-70

PFL-1500

495

< 120

< 3-5 60-90%

132

70-100

PFL-1750

424

< 120

< 3-5 60-90%

160

130-190

PFL-2000

370

< 120

< 3-5 60-90%

185

100-160
PRODUCTS PRODUCTS
Stone crushing Item
Mineral processing Item
Washing & dewatering Item
Briquette making Item
Calcination & Drying Item