Product introduction
Double impeller leaching adsorption tank adopts two new type bigger impellers, low rotational speed,less power consumption, inside hollow shaft can suck the air into the tank,and improve the leaching environment. Gold ore leaching tank is widely used in gold and silver ore dressing plant for cyaniding treatment, CIP process, and carbon-in-leach work.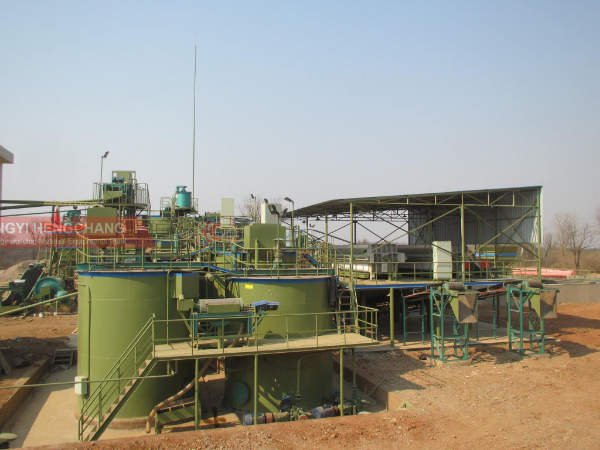 Product Advantages
1.Smooth movement, pulp mixing, less power consumption.
2.air after driving hollow shaft into the groove, and the blade agitation, air dispersion evenly.
3, compact structure, convenient maintenance.
4, to the bottom of the hollow shaft ventilation, air through it into the slot, uniform dispersion, small air bubbles.
5, the two new type of impeller, the impeller diameter, low speed, small power consumption, can reduce carbon wear.
6, stirring intensity, moderate groove pulp density, fineness distribution is consistent, can improve the rate of pass in and out of cyanide and charcoal adsorption rate.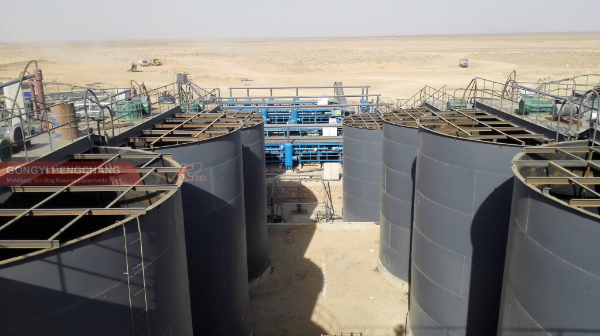 operating principle
Double impeller leaching tank equipped with motor, cycloidal planetary gear speed reducer, bearing block and agitating shaft, is characterized by compact structure, little occupied space, and the agitating shaft equipped with a double impeller , from the top view the impeller rotating clockwise, each impeller composed of 4 blades, and the angle of the top blade and the below one is 45 degree. The compact air gets through the elbow pipe or the hollow shaft to the tank's bottom, the raising air plays the role of mixing , at the same time the big bubble shattered by the impeller changing into small bubbles, in the end the pulp and air reaches fully mixing and sodium cyanide solution contacts with the pulp completely, thereby gets the better gold leaching result. The design of this device keeps the impeller low-speed moving, reducing the possibility of wearing or smashing the active carbon, so as to achieve high leaching rate, high absorption rate and collects more gold.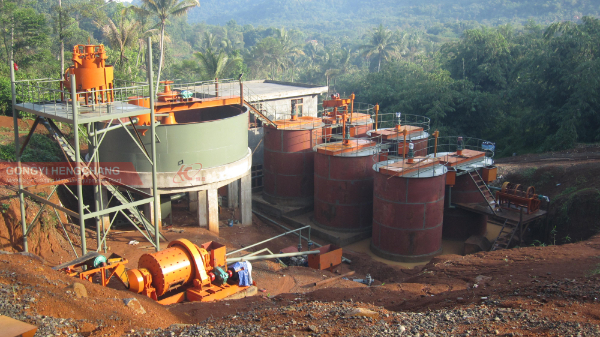 Technical parameters
| | | | | | | |
| --- | --- | --- | --- | --- | --- | --- |
| Model | tank size (mm) | volume (m3) | impeller dia. (mm) | impeller speed (r/min) | power (kw) | weight (kg) |
| SJ-2025 | Φ2000×2500 | 6 | 900 | 52 | 2.2 | 2100 |
| SJ-2531 | Φ2500×3150 | 13.14 | 935 | 52 | 2.2 | 3100 |
| SJ-3030 | Φ3000×3000 | 18 | 1130 | 41 | 4 | 4150 |
| SJ-3035 | Φ3000×3500 | 21 | 1130 | 43 | 4 | 4400 |
| SJ-3535 | Φ3500×3500 | 30 | 1310 | 52 | 5.5 | 4900 |
| SJ-3540 | Φ3500×4000 | 32.7 | 1310 | 52 | 5.5 | 5200 |
PRODUCTS PRODUCTS
Stone crushing Item
Mineral processing Item
Washing & dewatering Item
Briquette making Item
Calcination & Drying Item