Product introduction
The gold trommel washing machine has single or double layers circular sieve to classify two to three kinds of different grades sand and stone which should be clearly deslimed. It is mainly used for washing ore before beneficiation operation system, and improving the ore grade for next processing step. it can be used for manganese ore, iron ore, limestone, tungsten, and silica ore, and so on.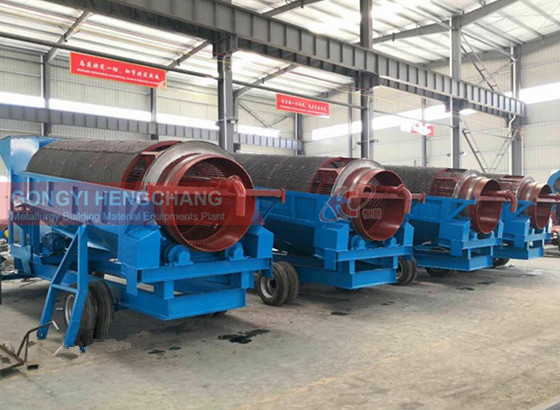 Product Advantages
The trommel washing machine is widely used in various difficult-to-wash large ores. The washing machine is divided into two types: cylindrical type and cylindrical type. The latter kind can divide the materials to be washed into two grades of +40mm and -40mm, and the -40mm can be further scrubbed by double spiral grooved washing machine to divide the materials into two grades of +2mm and -2mm. The washing efficiency can be Up to 98%, this combination is the most effective method for the current difficult to wash ore.
1. The mesh hole is not easy to block.
2. The operation is stable and the noise is low.
3. Simple structure and convenient maintenance.
4, the screening cylinder can be closed, easy to close the dust collection.
5. The reliability of the whole machine is high, and the one-time investment is less.
6, the use of special mesh, high screening efficiency, long service life.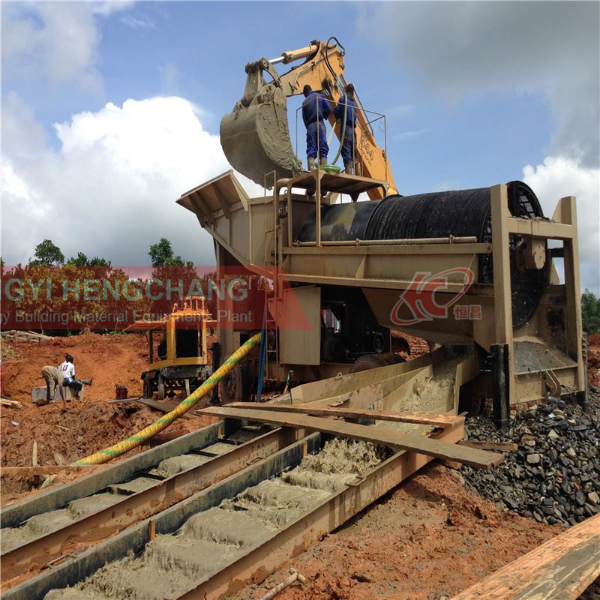 operating principle
The cleaning cylinder of the rotary ore washing machine is supported by four tugs, the motor drives the reducer, and the large and small gears drive the cleaning cylinder to rotate at a low speed. The aggregate containing the mud mass and the stone powder is fed from the feed port, enters the rotating drum, and is cleared. The wear-resistant rubber lining plate installed at a certain angle in the washing drum is continuously thrown off, and is circulated repeatedly from the feeding end to the discharging end, and is washed by the forward or reverse washing water, and is cleaned. The aggregate is discharged after being dewatered through a discharge end mill sieve. Waste water containing sludge passes through a perforated baffle at the discharge or feed end.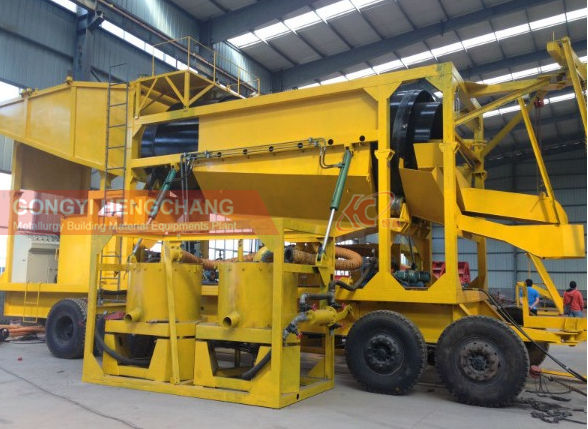 Technical parameters
Model

Drum Size

(mm)

Feed Size(mm

Screen Pore(mm)

Capacity

(t/h)

Rotary Speed(r/min)

Power

(kw)

Weight(t)

YTS800×2000

Φ800×2000

≤10

1-10

10-15

20

1.5

1.6

YTS 1000×2400

Φ1000×2400

≤15

1-15

20-50

15-19

4

3.3

YTS 1200×3000

Φ1200×3000

≤20

1-15

50-100

13-18

5.5

4.3

YTS 1500×3000

Φ1500×3000

≤20

1-20

100-150

13-18

7.5

5.3

YTS 1500×4500

Φ1500×4500

≤20

1-20

100-200

13-18

7.5

6

YTS 1800×4800

Φ1800×4800

≤30

1-30

200-250

13-18

7.5

7.5

YTS 2000×4000

Φ2000×4000

≤50

1-50

200-300

13-16

11

9
PRODUCTS PRODUCTS
Stone crushing Item
Mineral processing Item
Washing & dewatering Item
Briquette making Item
Calcination & Drying Item