Product introduction
The thickener concentrator (high-efficiency concentrator) generally consists of a concentration tank, a truss, a transmission, a truss lifting device, a feeding device, a discharging device and a signal safety device. The main feature of the concentrator (high-efficiency concentrator) is to add a certain amount of flocculant to the slurry to be concentrated, so that the ore particles in the slurry form floccules, accelerate the sedimentation speed, and thereby achieve the purpose of improving the concentration efficiency.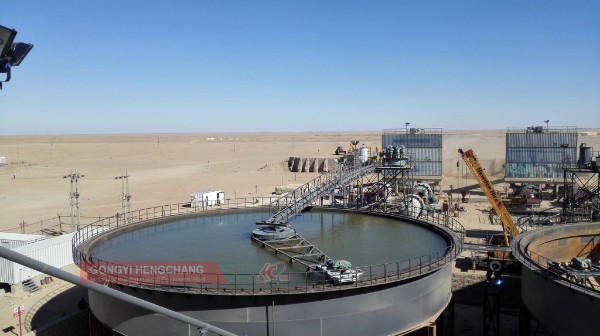 Product Advantages
(1) adding a flocculant to increase the particle size of the settled solid particles, thereby accelerating the sedimentation speed;
(2) Install inclined plates to shorten the settlement distance of the ore particles and increase the settlement area
(3) exerting the effect of flocculation, filtration, compression and treatment of the dense phase layer of the mud deposit;
(4) equipped with complete self-control facilities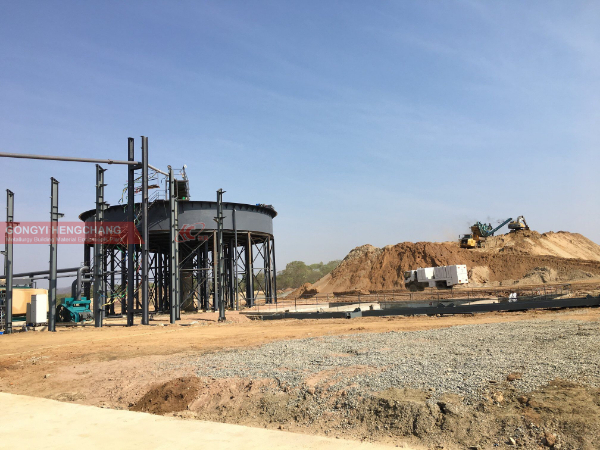 operating principle
(1) The solid particles in the suspension will settle under the action of gravity, and the thickener uses this principle to concentrate the slurry.
(2) Continuous operation of the concentrator During the concentration process, the slurry entering the reservoir gradually forms five different zones. Clarification zone, subsidence zone, transition zone, concentration zone and slime zone. Since the slurry is continuously fed and discharged, there is always a settling zone, and the concentration of the slurry starts from the free settling zone, but the main concentration process is carried out in the concentration zone.
(3) Transmission of the machine: the power of the motor is transmitted to the worm gear reducer through the V-belt, the reducer coupling, and the tweezers that are fixed with the main shaft are rotated. The slurry is subjected to the funnel into the reservoir, and the slurry is in the slurry. The solid particles sink into the bottom of the pool by gravity, and are pushed by the rotating rafters to the discharge port, and the clarified liquid flows out through the overflow tank at the upper part of the pool.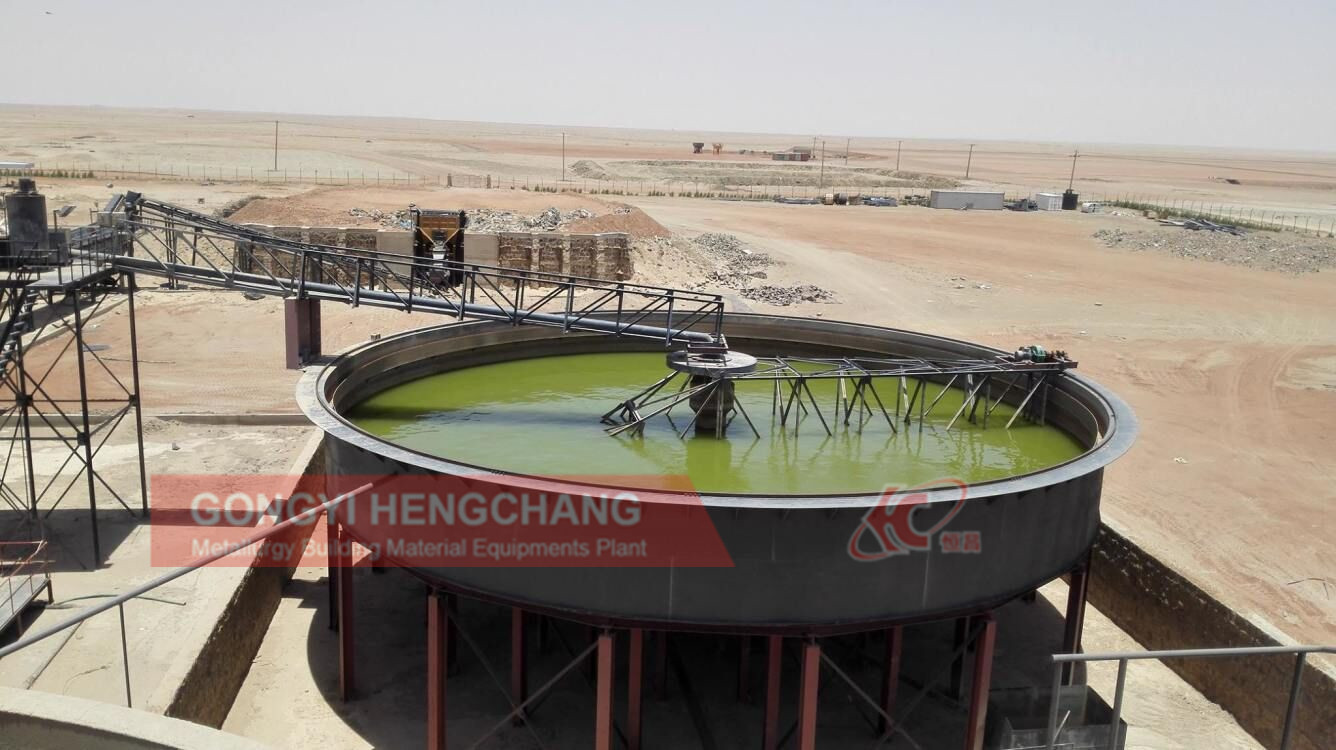 Technical parameters
Model

Dia.
(m)

Depth
(m)

Slope
(°)

Circle Time

(min)

Lifting Hight(mm)

Capacity
(t/24h)

Driving Power (kw)

Lifting Power

(kw)

Weight

(t)

Note

NZS-1

1.8

1.8

8

2

160

5.6

1.1

-

1.24

Manual Lift

NZS-3

3.6

1.8

8

2.5

350

22

1.1

-

3.2

Manual Lift

NZ-3

0.75

Auto Lift

NZS-6

6

3

8

3.7

200

62

1.1

-

3.7

Manual Lift

NZ-6

0.75

Auto Lift

NZS-9

9

3

8

4.3

250

140

3

-

5.2

Manual Lift

NZ-9

1.1

Auto Lift

NZS-12

12

3.5

8

5.2

250

140

3

-

9.5

Manual Lift

NZ-12

1.1

Auto Lift

NZ-15

15

4.4

9

10.4

400

350

5.5

2.2

21.76

Auto Lift

NZ-20

20

4.4

9

10.4

400

500

5.5

2.2

24.5

Auto Lift

NZ-24

24

4

9

15/20

400

700

5.5

2.2

27

Auto Lift

NZ-30

30

5.1

9

13/16/20

400

384

7.5

2.2

34.46

Auto Lift
PRODUCTS PRODUCTS
Stone crushing Item
Mineral processing Item
Washing & dewatering Item
Briquette making Item
Calcination & Drying Item