Product introduction
jig machine is a new type energy saving high efficient gravity separator equipment. it can handle raw materials at various particle sizes except some fineness ore. Simple operation, large capacity, and can get some final products in single separation. It is widely used in the production process. For metal ore, is a better equipment to deal with coarse, medium and fine grain of iron ore and manganese, also used in separation tin, tungsten etc; The jig separator machine also has extensive use in gold, tantalum, niobium titanium, chromium etc raw ore and placers, as well as the adamas; Also can have a better result in zinc oxide ore.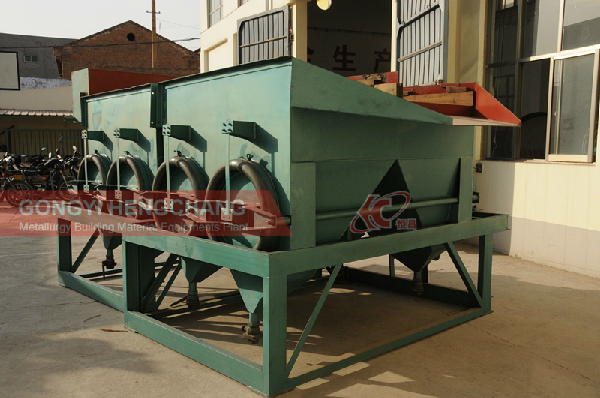 Product Advantages
1. Large processing capacity, wide sorting size range
2. High enrichment ratio and high recovery rate
3. Easy installation, easy operation, easy maintenance
4. Adjustable speed motor
5. Low water consumption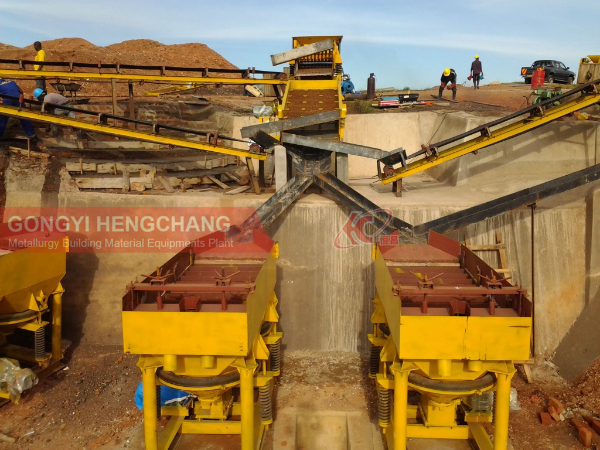 operating principle
(1). The pulsing curve of the traditional jig is sinusoidal waveform, the up and down speed of water flow and acting time produced by the movement of membrane are almost same, so it is unfavorable to loose of jig bed and layering of
minerals based on special gravity, and thus affect separation ability and recovery rate. Saw-tooth wave is an energy economy gravity equipment that is developed and improved from traditional jig on the basis theory of jig bed layering.

(2).Its jigging pulsating curve is similar to saw-tooth wave, which makes the up speed of water flow quicker than down

(3). speed of water flow, so it can improve looseness of jig bed and reduce suction action, which can lead to fully settlement of heavy particles in slurry, it highly improves separation ability and recovery rate. Stroke and frequency of stroke are adjustable.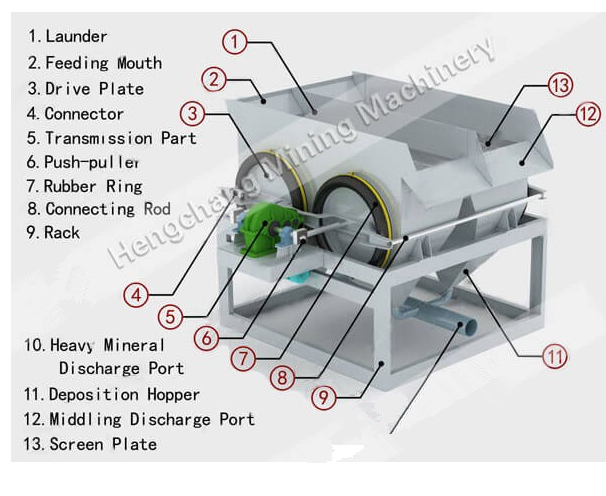 Technical parameters
Model

Jig Room

Stroke Coefficient

Septum

Input Size

(mm)

Capacity

(t/h)

Water Consumption

(t/h)

Power

(kw)

Weight

(kg)

Area

(m2)

Raw

Room

Total Area

(m2)

Stroke

(mm)

Times

(mm)

LTP -

34/2

0.135

1

2

0.27

0.58

0-25

320-

420

12

2-6

4-10

1.1

800

LTA -

1010/2

1.0

1

2

2.0

0.5

0-25

250-

350

5

5-15

10-20

2.2

2890

LTC -

69/2

0.54

1

2

1.08

0.55

0-50

220-

350

8

6-9

40-60

1.5

1420

2LTC-366/8T

0.2-0.34

2

8

2.16

0.68-

0.41

0-50

120-

300

5

3-6

20-40

1.1x

2

3570

2LTC-6109/8T

0.58-0.86

2

8

5.76

0.52-

0.35

0-50

120-

300

5

10-20

80-120

2.2x

2

4650

AM-30

0.644

2

2

2.574

0.47

0-50

130

30

10-15

100-150

3

2400
PRODUCTS PRODUCTS
Stone crushing Item
Mineral processing Item
Washing & dewatering Item
Briquette making Item
Calcination & Drying Item