Product introduction
SF Flotation machine has the advanced forward-type tank structure, double-blade wheel, with a diversion pipe and false bottom device. The slurry in the slot flows in an up and down double fixed direction cycle, which is good for the coarse-grained mineral flotation. It can absorb fresh air and slurry, no need foam pump, suitable for separation of non-ferrous metals, ferrous metals, precious metals, non-metallic mineral and chemical raw materials, recovery of useful minerals.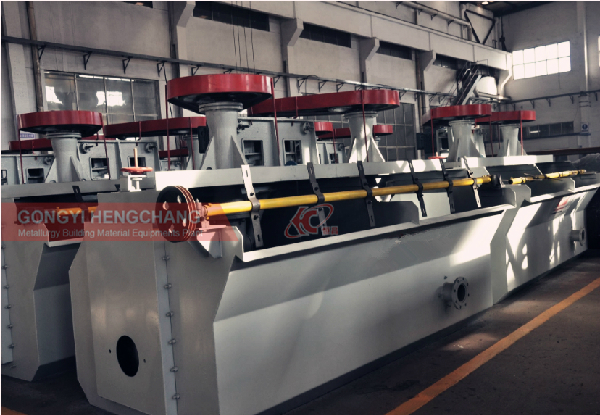 Product Advantages
1. large air-absorption capacity
2. low energy consumption
3. less reagents consumption
4. easy to maintenance and can be designed according to the users.
5. Every cell owns three functions: air absorption, slurry absorption, and flotation separation, and the cells form a flotation separation loop by itself without any auxiliary equipment, and is allocated horizontally, which favors the change of flow.
6. The impeller has backward-inclined upper and lower vanes, which produce upper and lower circulation of mineral slurry.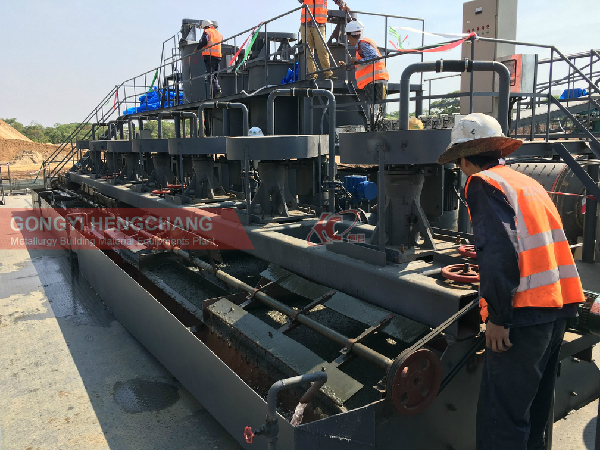 operating principle
SF Flotation machine consists of flotation cells, impeller, belt pulley, inlet pipe, strobe, covering plate, standpipe, draw bar, etc.
When the floatation machine works, the motor drives the impeller to revolve, so the centrifugal effect and negative pressure are produced. On one hand, ample air is absorbed and mixed with mineral slurry, on the other hand, the mixed mineral slurry is mingled with additive, meanwhile, the foams are thinning, the mineral is bounded with foams, and floats up to the surface of mineral slurry and the mineralized foam is formed. The liquid surface can be adjusted with the height of adjustment flashboard, so that the useful foams are scraped with squeegee.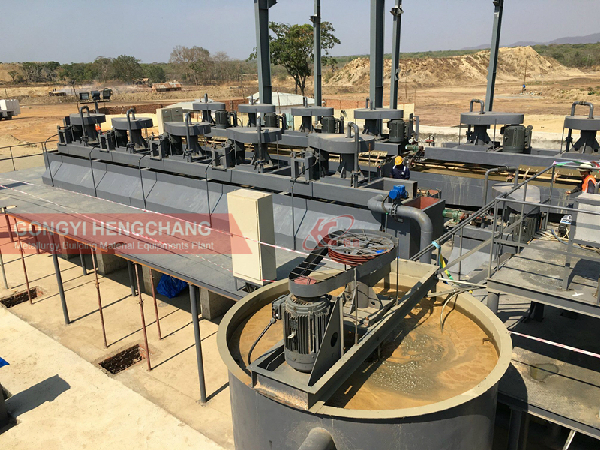 Technical parameters
Model

SF-0.15

SF-0.37

SF-1.2

SF-2.8

SF-4

SF-6

SF-8

SF-10

SF-16

SF-20

Tank Volume (m3)

0.15

0.37

1.2

2.8

4

6

8

10

16

20

Tank size

(mm)

0.5×0.5

×0.6

0.7×0.7

×0.75

1.1×1.1

×1.1

1.7×1.6

×1.15

1.85×2.05

×1.2

2.2×2.2

×1.3

2.2×2.2

×1.4

2.2×2.9

×1.7

2.9×3.8

×1.7

2.85×3.8

×2

Capacity

(m3/min)

0.06-0.18

0.2-0.4

0.6-1.2

1-3

2-4

3-6

4-8

5-10

5-15

5-20

Suction intensity(m3/m2/min)

0.5-1.0

0.8-1.0

0.8-1.0

1-1.2

1-1.2

0.9-1.0

0.9-1.0

0.9-1.0

0.9-1.0

0.9-1.0

Main

motor

Model

Y100L-6

Y90L-6

Y132M2-6

Y180L-8

Y200L-8

Y250M-8

Y250M-8

Y250M-8

Y250M-8

Y250M-8

Power

(kw)

1.5

1.5

5.5

11

15

30

30

30

30

30x2

Speed

(r/min)

940

1400

960

730

730

730

730

730

730

730

Impeller

Dia.

(mm)

200

296

450

550

650

700

760

760

760

760

Height

(mm)

57

80

104

124

131

186

186

186

186

186

Speed(r/min)

536

386

312

268

220

191

191

191

191

191

circle Speed(r/min)

5.6

6.0

7.35

7.7

7.3

7.5

7.5

7.5

7.5

7.5

Scraper Power

Model

Y80L-4

Y80L-4

Y90S-4

Y100L-6

Y100L-6

Y100L-6

Y100L-6

Y100L-6

Y100L-6

Y100L-6

Scraper Speed

(r/min)

16

16

16

16

16

16

16

16

16

16

Reducer Model

WHT80-41

WHT80-41

WXJ120-50

WXJ 120-31

WXJ 120-31

WXJ 120-31

WXJ 120-31

WXJ 120-31

WXJ 120-31

WXJ 120-31

weight(kg)

538/2

936/2

2745/2

4676/2

5165/1

3000/1

4129/1

4686/1

8230/1

8530/1
PRODUCTS PRODUCTS
Stone crushing Item
Mineral processing Item
Washing & dewatering Item
Briquette making Item
Calcination & Drying Item