Product introduction
The ball mill is a key equipment to grind the crushed materials, and the ball mill is widely used in powder-making production line including cement, silicate, new-type building material, refractory material, fertilizer, ore dressing of ferrous metal and non-ferrous metal, glass ceramics, etc,and the ball mill can grind various ores and other materials with dry type and wet type. There are two kinds of ball mill, grate type and overfall type due to different ways of discharging material.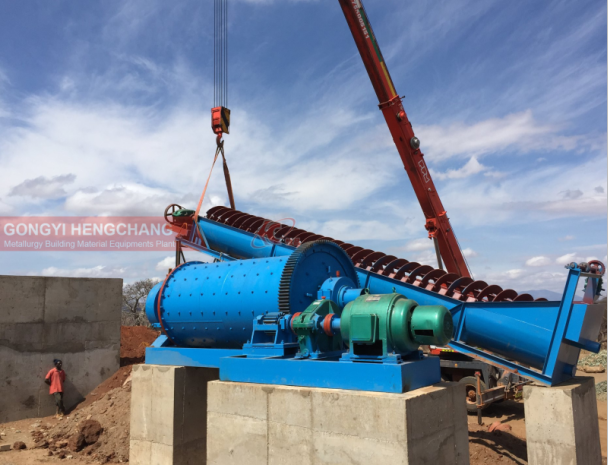 Product Advantages
1. It is an efficient tool for grinding many materials into fine powder.
2. The ball mill is used to grind many kinds of ore and other materials, or to select ore
3. Ball mill is widely used in building material, and chemical industry.
4. There are two ways of grinding: dry way and wet way.
5. Ball mill can be divided into tabular type and flowing type according to different expelling mine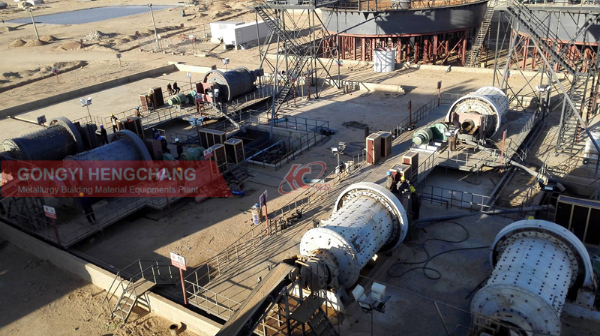 operating principle
The ball mill is a horizontal rotating device transmitted by the outer gear. The materials are transferred to the grinding chamber through
the quill shaft uniformly. There are ladder liner and ripple liner and differentspecifications of steel balls in the chamber. The centrifugal force
caused by rotation of barrel brings the steel balls to a certain height and impact and grind the materials. The ground materials are discharged
through the discharging board thus the grinding process is finished.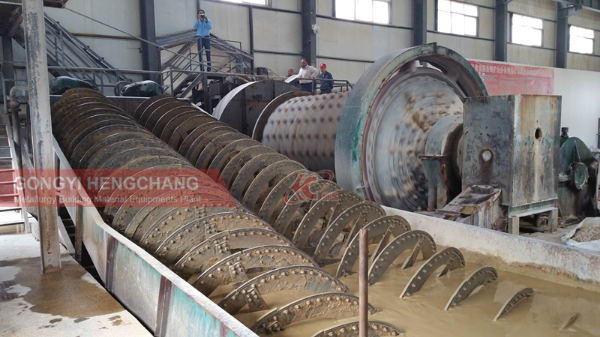 Technical parameters
Model

Cylinder speed

(r/min)

Ball loading

(t)

Feeding Size

(mm)

Output size

(mm)

Capacity

(t/h)

Power

(kw)

Weight

(t)

MQZ900×1800

38

1.5

≤20

0.075-0.89

0.65-2

15

4.2

MG900×3000

38

2.7

≤20

0.075-0.89

1.1-3.5

22

5.6

MQZ1200×2400

37

3.8

≤25

0.075-0.6

1.5-4.8

30

11.5

MG1200×3000

37

5

≤25

0.074-0.4

1.6-5

37

12.8

MG1200×4500

37

6.6

≤25

0.074-0.4

1.6-5.8

45

13.8

MQZ1500×3000

29.7

8

≤25

0.074-0.4

2-5

75

16

MG1500×4500

29.7

12.5

≤25

0.074-0.4

3-6

90

22

MG1500×5700

29.7

15

≤25

0.074-0.4

3.5-6

110

24.7

MQZ1830×3000

25

11

≤25

0.074-0.4

4-10

130

28

MG1830×4500

25

15.8

≤25

0.074-0.4

4.5-12

155

32

MG1830×6400

24.1

23

≤25

0.074-0.4

6.5-15

210

36.5

MG1830×7000

24.1

24

≤25

0.074-0.4

7.5-17

245

39

MQZ2100×3000

24.6

20

≤25

0.074-0.4

7.5-36

180

40

MQZ2100×4500

24.6

22.5

≤25

0.074-0.4

7.5-40

210

48

MQZ2200×6500

21.7

25

≤25

0.074-0.4

10-12

380

52

MQZ2200×7000

21.7

28

≤25

0.074-0.4

10-14

380

54

MQZ2200×7500

21.7

29

≤25

0.074-0.4

12-14

380

56

MQZ2400×10000

20.57

50

≤25

0.074-0.4

17-18

630

95

MQZ2400×11000

20.57

51.5

≤25

0.074-0.4

19-21

630

99.2

MQZ2400×13000

20.3

65

≤25

0.074-0.4

21-23

800

116

MQZ2600×11000

19.57

65

≤25

0.074-0.4

24-26

800

131

MQZ2600×13000

19.61

75

≤25

0.074-0.4

28-32

1000

149

MQZ3000×9000

18.34

78

≤25

0.074-0.4

28-32

1000

139

MQZ3000×11000

18.08

95

≤25

0.074-0.4

30-35

1250

143.5

MQZ3000×13000

18.08

108

≤25

0.074-0.4

33-37

1250

172.3
PRODUCTS PRODUCTS
Stone crushing Item
Mineral processing Item
Washing & dewatering Item
Briquette making Item
Calcination & Drying Item