Product introduction
XJK flotation machine is suitable for separation of non-ferrous metals, ferrous metals, precious metals, non-metallic mineral and chemical raw materials, recovering useful minerals. This machine has the features of the big suction capacity and low power consumption. Every slot has the triple function of suction, grout and flotation which become the complete flotation circuit without any auxiliary equipment installing the machine in a actinic line it will be easier for the flow process change, the rational slurry cycle and furthest reducing the coarse sand sinking...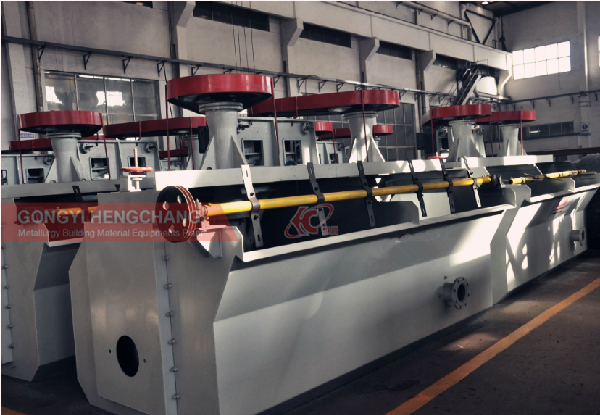 Product Advantages
1. large air-absorption capacity
2. low energy consumption
3. less reagents consumption
4. easy to maintenance and can be designed according to the users.
5. Every cell owns three functions: air absorption, slurry absorption, and flotation separation, and the cells form a flotation separation loop by itself without any auxiliary equipment, and is allocated horizontally, which favors the change of flow.
6. The impeller has backward-inclined upper and lower vanes, which produce upper and lower circulation of mineral slurry.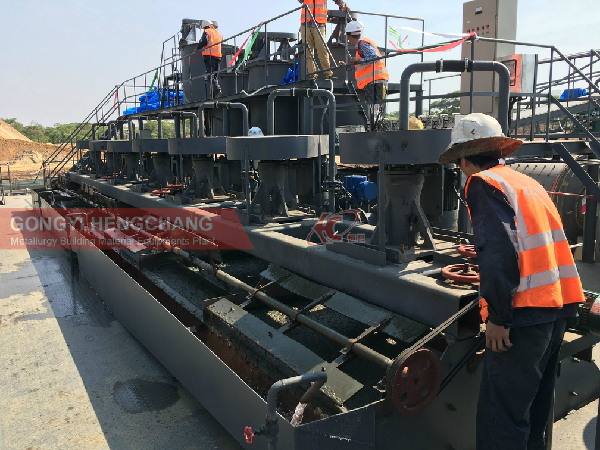 operating principle
(1) After intensively mixed, the pulp and medicaments are fed to the groove bottom of the first tank.
(2) When the impeller of the flotation machine for gold ore begins to rotate, negative pressure is formed, making the air and pulps at the bottom and middle part of the tank enter the mixing zone. The pulp, air and medicaments are then mixed in the mixing zone.
(3) As a result of the cenrifugal force, the blended pulps are lead to the mineralization area. The air is in full contact with the coal particle and forms mineralized discharged by the scraping tool. Finally, clean coal foam is produced by this flotation machine.
(4) Coal particles that are not mineralized will be remixed, re-mineralized and re-separate through the recycle hole and the upper intake.
(5) The left pulp that are not sucked by the impeller enters intor the third tank after going through the process of the first tank, thus, flotation machine for gold ore runs in cycle and discharges ore pulp through the tailing box of the flotation machine.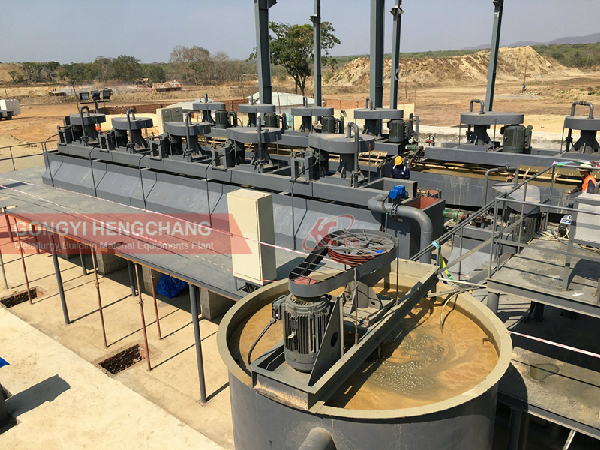 Technical parameters
Model

XJK—2(A)

XJK—3(A)

XJK—4(A)

XJK—5(A)

XJK—6(A)

XJK—7(A)

Slot Volume(m3)

0.23

0.35

0.62

1.1

2.8

5.8

Impeller Dia.(mm)

250

300

350

500

600

750

Impeller Speed(r/min)

500

483

400

330

280

240

Capacity(m3/min)

0.12-0.28

0.18-0.5

0.3-0.9

0.6-1. 6

1.5-3.5

3-7

Slot Size(mm)

600×600

×650

700 × 700

×750

820×900

×850

1100×1100

×1000

1750×1600

×1100

2200×2200×200

Power(Kw)

3/2 slots

3/2 slots

3

5.5

11

15

Weight(kg/Slot)

1158/4

1720/4

2500/4

4514/2

4514/1

7066/4
PRODUCTS PRODUCTS
Stone crushing Item
Mineral processing Item
Washing & dewatering Item
Briquette making Item
Calcination & Drying Item