Product introduction
Cone crusher (spring cone crusher) can crush materials of above medium hardness. And it is widely used in metallurgy, building, hydropower, transportation, chemical industry, etc. When used with jaw crusher, it can be used as secondary, tertiary or quaternary crushing. Generally speaking, the standard type of Symons cone crusher is applied to medium crushing. The medium type is applied to fine crushing. The short head type is applied to coarse fine crushing. As casting steel technique is adopted, the machine has good rigidity and large high strength.
Product Advantages
1. Our cone crusher has the characteristics of large breaking force, high efficiency, high crushing capacity, low operating cost and long service life. It is convenient to operate and is economical.
2. The crushed materials are of equal size, thus reducing circulating load.
3. Large and medium-sized crushers adopt hydraulic chamber-cleaning systems, which will help reduce the down time.
4. Cone crushers with different chambers are available, to meet our customers' requirements.
5. Grease seal can effectively avoid the blockage of water feeding system and drainage system, as well as mixing of water and oil.
6. As the overload protection device, spring safety device allows foreign matter and iron pieces to pass through the crushing chamber without jeopardizing machines.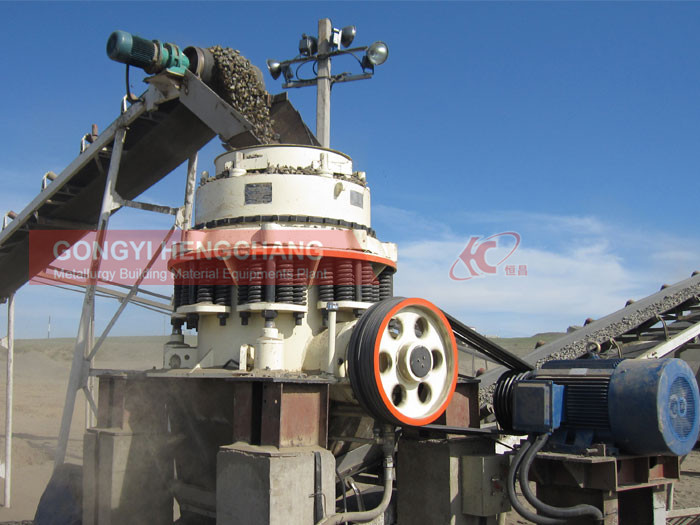 operating principle
1. When cone crusher is working, motor drives the eccentric sleeve to rotate. The eccentric sleeve drives the transmission shaft and cone part to make swing movement. When they swing to the extent that the surface of the crushing wall is close to the roll mortar wall, the rocks and ores are pressed and crushed.
2. Joint between supporting sleeve and frame is compressed by spring. When metal block and other materials that can no be crushed fall into the crusher, spring will be out of sharp and discharge the objects.
3. When the materials that can not be crushed pass through the crushing chamber or the machine overloads, the spring safety system makes the cone discharging hole become larger. When objects are discharged from crushing chamber, discharging hole will automatically reset. Cone crusher resumes normal operations.
4. The surface of crushing chamber is covered with wear-resisting high manganese steel lining plate. Size of discharging hole can be adjusted hydraulically or manually.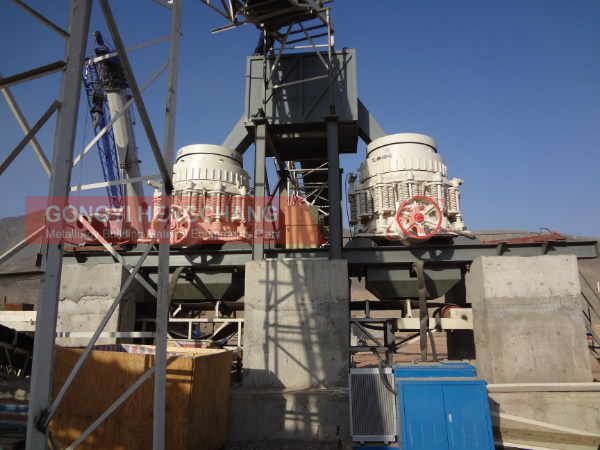 Technical parameters
Model

Feed opening
(mm)

Max feed

size(mm)

Discharge size
(mm)

Capacity
(T/H)

Motor
(KW)

Weight
(T)

PYB-600

75

65

12-15

40

30

5.0

PYD-600

40

35

3-13

12-23

30

5.1

PYB-900

135

115

15-50

50-90

55

11.2

PYZ-900

70

60

5-20

20-65

55

11.2

PYD-900

50

40

3-13

15-50

55

11.3

PYB-1200

170

145

20-50

110-168

110

24.7

PYZ-1200

115

100

8-25

42-135

110

25.0

PYD-1200

60

50

3-15

18-105

110

25.3

PYB-1750

250

215

25-50

280-480

160

50.3

PYZ-1750

215

185

10-30

115-320

160

50.3

PYD-1750

100

85

5-15

75-230

160

50.2

PYB-2200

350

300

30-60

590-1000

280/260

80.0

PYZ-2200

275

230

10-30

200-580

280/260

80.0

PYD-2200

130

100

5-16

120-340

280/260

81.4
PRODUCTS PRODUCTS
Stone crushing Item
Mineral processing Item
Washing & dewatering Item
Briquette making Item
Calcination & Drying Item