Product introduction
Rotary Kiln is widely used for many industries like metallurgy, chemical industry, building refractory materials, environmental protection, etc. The Rotary Kiln consists of cylindrical shell, supporting device, supporting device of thrust roller, driving unit, moveable kiln head, sealing device on the tail of kiln, coal dust pipe device, etc. The kiln body has a certain tilt angle with level. The whole kiln body is supported by the roller supporting device, and it is also equipped with thrust roller device to control the up and down movement of the kiln body.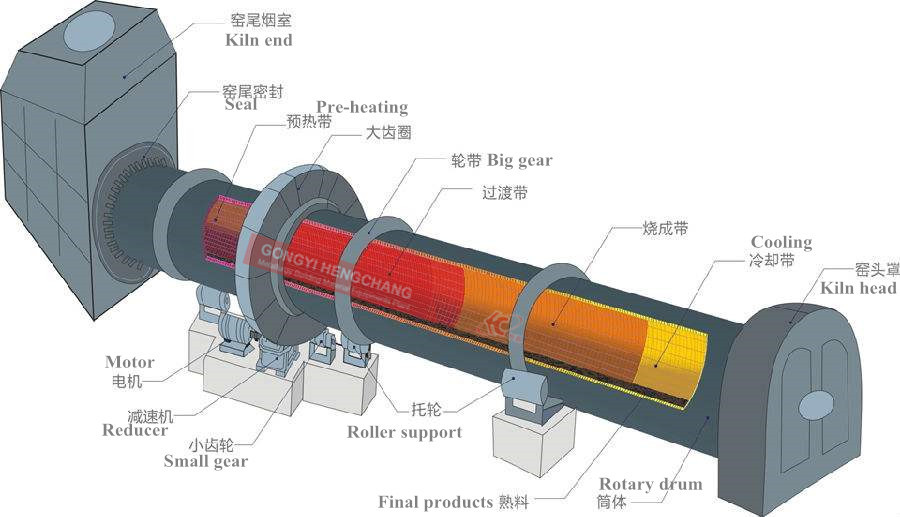 Product Advantages
Gongyi Hengchang is specialized in mining machinery manufacturing with more than 30 years` development and located in Gongyi, Henan province.
The leading products include whole set mine-selecting equipment and sandstone equipment such as ball mill, crusher, magnetic separator, flotation machine, classifier, drier, sand-maker, oscillating screen, sand washer, conveyor, etc. Mine-selecting equipment is applicable to select non-ferrous metal ore such as iron, copper, gold, silver, lead, tungsten, molybdenum, manganese and non-metal ores such as fluorite and quartz. Sandstone equipment is applicable to construct airport, railway, freeway, average highway, national large bridge, sub-bottom tunnel, land tunnel and new-type high building. Through years of scientific research and production practice, the company has accumulated rich professional knowledge and practical experience; therefore it has developed many new products, such as Non-pollution Brick Making Machine, Automatic High Pressure Brick Making Machine, the Mixer as well as each kind of Cement Product Mechanical Device, which are widely elected by the users. The products have won many awards of varied levels and passed the attestation of ISO9001 Quality Control System SGS of Sweden. Our clients spread all over the country. Products are sold to South Korea, Taiwan, Indonesia, Vietnam, Portugal, Germany and Middle East with the Annual export quantum composing one third of the total sales, wining praises from the purchasers.
"To turn out quality machine products, establish famous brand, and constantly replace older generations of products by new ones" is always the objective for the company to strive for. We warmly welcome the arrival of friends home and abroad and are eager to develop cooperation with them on the basis of mutual benefit and joint growth. If need more detail please consult our website!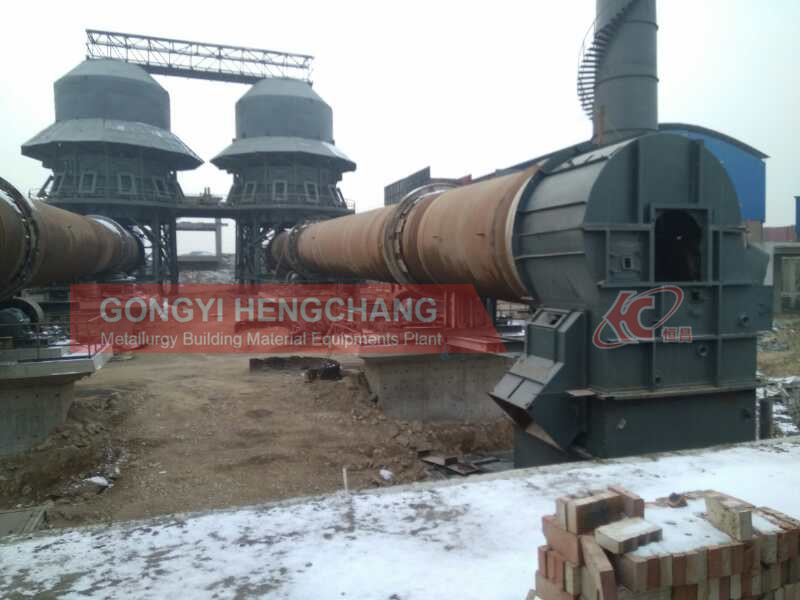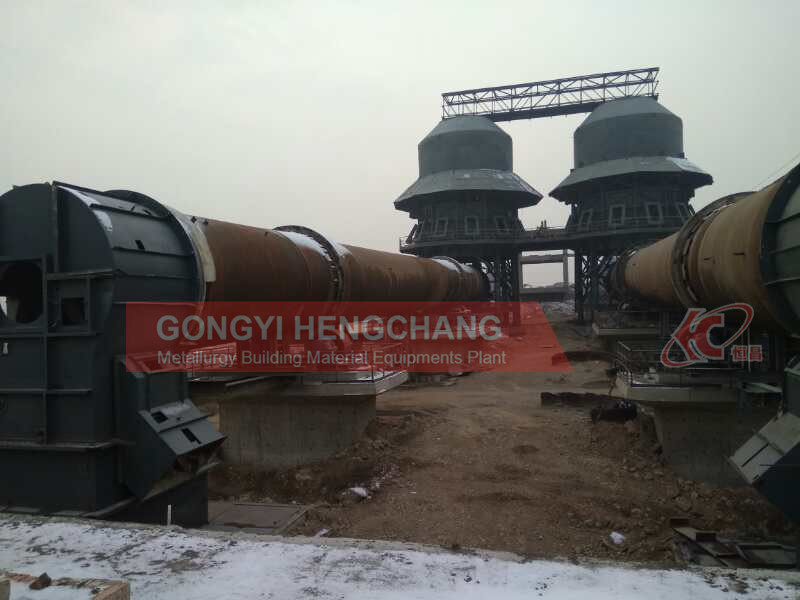 operating principle
The rotary kiln from china professional manufacture Gongyi hengchang Machinery is a cylindrical vessel, inclined slightly to the horizontal, which is rotated slowly around its axis. The material to be processed is fed into the upper end of the cylinder. As the kiln rotates, the materials gradually move down towards the lower end, and may undergo a certain amount of stirring and mixing. Hot gases pass along the kiln sometimes in the same direction as the process material (co-current), but usually in the opposite direction (counter-current). The hot gases may be generated in an external furnace, or may be generated by a flame inside the kiln. Such a flame is projected from a burner-pipe (or 'firing pipe') which acts like a large burner. The fuel may be gas, oil or pulverized coal.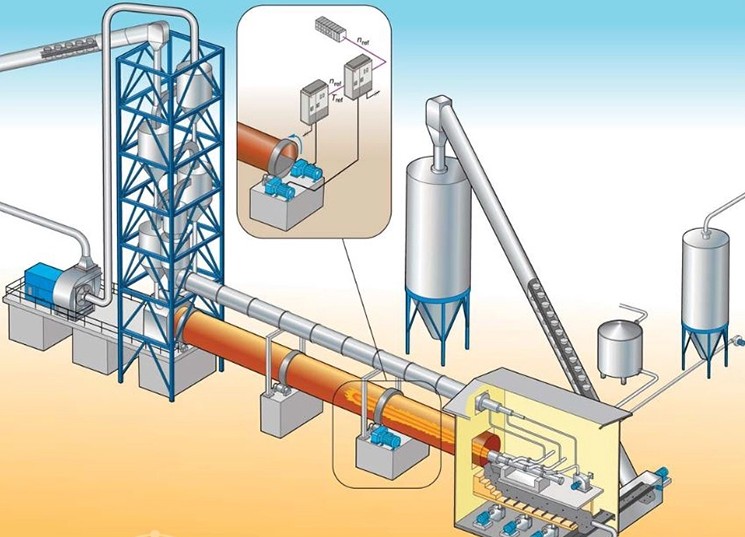 Technical parameters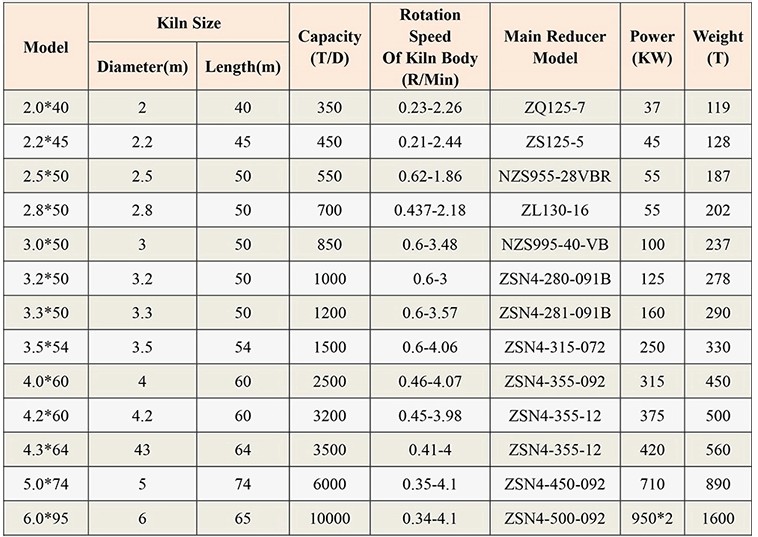 PRODUCTS PRODUCTS
Stone crushing Item
Mineral processing Item
Washing & dewatering Item
Briquette making Item
Calcination & Drying Item