Product introduction
Mesh band belt dryer is a kind of drying equipment which uses steel mesh as transmission belt to carry materials for continuous drying. Because the transmission belt is reticulated, it is most suitable for drying regular or irregular blocks (such as coal, fast molding of various mineral powder, food, vegetables, etc.). This machine can be used with other equipment. You can also use it alone. The utility model has the advantages of small investment, fast drying speed, high evaporation intensity, high efficiency, large output and good product quality.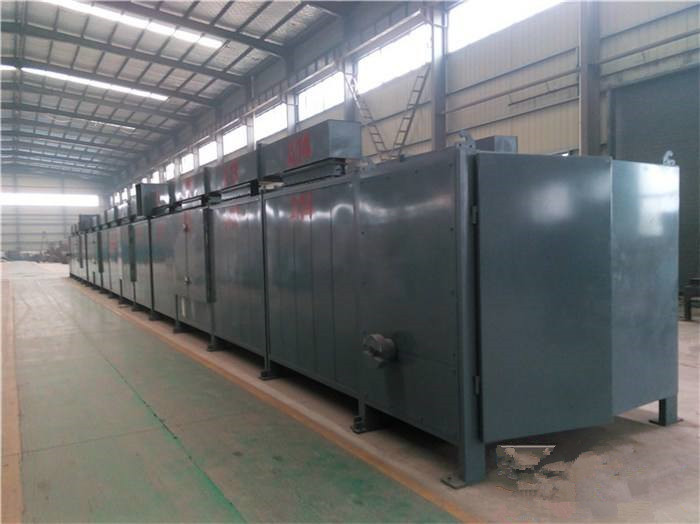 Product Advantages
The belt dryer can adjust the air volume, heating temperature, material residence time and feeding speed to achieve the best drying effect. The equipment configuration is flexible, can use the net belt washing system and the material cooling system. 3. Net belt dryer most of the air recycling, high energy saving. 4. The unique air distribution device of net belt dryer makes the distribution of hot air more uniform and ensures the consistency of product quality. 5. Heat source can be used steam, heat conduction oil, point or gas hot blast stove matching.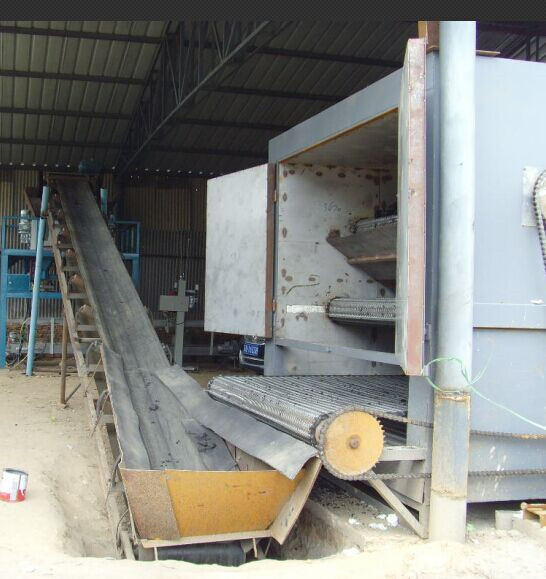 operating principle
The belt dryer distributes the material to be dealt with through the appropriate laying mechanism, such as star distributor, swing belt, grinder or granulator, on the conveyor belt, which is composed of one or more heating units, each of which is equipped with air heating and circulation system, each of which has one or more humidification systems, and when the conveyor belt passes, Hot air passes through the material on the conveyor belt from top to bottom or from bottom to top so that the material can be dried evenly.
Net belt dryer is a batch, continuous production of drying equipment, the main heating methods are electric heating, steam heating, hot air heating. The main principle is that the material is evenly tiled on the mesh belt, the mesh belt adopts 12 × 60 purpose steel wire mesh belt, which is dragged by the transmission device to move back and forth in the dryer, the hot air flows through the material, and the water vapor is discharged from the dehumidification hole, so as to achieve the purpose of drying. in order to save the site, the drying mechanism can be divided into multi-layer type, the common ones are two rooms and three layers, two rooms and five layers. The length is 6 ≤ 40 m and the effective width is 0.6 ≤ 3.0 m.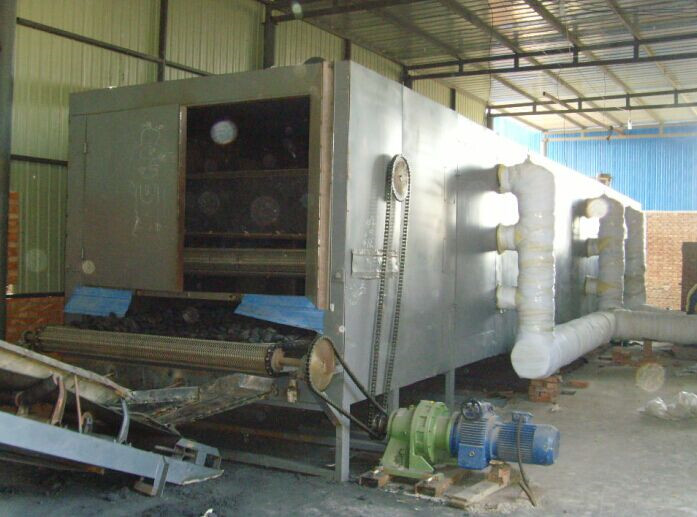 Technical parameters
| | | | | | | | | |
| --- | --- | --- | --- | --- | --- | --- | --- | --- |
| Model | Mesh Width(mm) | Drying Length(m) | Drying Area(m2) | Layer | Layer Distance (mm) | Running Speed(m/min) | Power(Kw) | Capacity(t/h) |
| HJWD6 | 600 | 6-12 | 3.6-36 | 1-5 | 400-600 | 0.06-1 | 1.1-2.2 | 6-10 |
| HJWD8 | 800 | 6-12 | 4.8-48 | 1-5 | 400-600 | 0.06-1 | 1.1-2.2 | 8-15 |
| HJWD10 | 1000 | 6-16 | 6-80 | 1-5 | 400-600 | 0.06-1 | 1.1-2.2 | 10-20 |
| HJWD12 | 1200 | 8-16 | 7.2-96 | 1-5 | 400-600 | 0.06-1 | 1.1-3 | 12-25 |
| HJWD16 | 1600 | 8-22 | 12.8-105 | 1-5 | 400-600 | 0.06-1 | 1.1-3 | 15-30 |
| HJWD20 | 2000 | 10-26 | 20-260 | 1-5 | 400-600 | 0.06-1 | 1.5-4 | 18-35 |
| HJWD24 | 2400 | 12-30 | 29-360 | 1-5 | 400-600 | 0.06-1 | 3-7.5 | 20-40 |
| HJWD30 | 3000 | 12-40 | 36-600 | 1-5 | 400-600 | 0.06-1 | 5-11 | 25-50 |
PRODUCTS PRODUCTS
Stone crushing Item
Mineral processing Item
Washing & dewatering Item
Briquette making Item
Calcination & Drying Item